The State of the Web and Mobile 2012
Do you know on which day people snooze the most? Check out Wakoopa's annual study – State of the Web and Mobile 2012! Today we, at Wakoopa, are proud to present to you our annual study The State of the Web and Mobile 2012! It will give you insight in people's digital life while diving deeper than just numbers. We define behavior, preferences and much more. With the help of our passive tracking...
Ten tips for successful online passive...
Mark Schiefelbein has written an article for the German magazine Planung & Analyse, offering the 10 essential tips for online passive measurement. Of course we can not exclude you from this precious information, so here's the english version! (The original version can be found at the website of Planung & Analyse, and also in print version in their magazine) 1. Provide incentives...
The Case for Passive Measurement of Online...
In a world that is becoming more and more online, the Wakoopa tracking technology is a valuable addition to the traditional research tools that are used to get insight in the behavior of people. The software enables companies to truly fathom their target audience. Our colleague Mark Schiefelbein has written a whitepaper on the subject of passive measurement of online behavior in practice. Today it...
Opening one door means closing another
tl;dr: Wakoopa Social is closing down, see the timeline here. Six years ago we decided to build the ʻlast.fm for software'; to make discovering software social. A few months and a lot of development hours later, Wakoopa was launched. In the starting weeks over 17.000 Wakoopians signed up for the service and a dream became reality Today this part of Wakoopa comes to an end. Here we are, five...
New metric available
Last week we made the Visitor rate available as a metric in all of our dashboards. In this post I'll explain to you why we decided to add this feature and how you could use it in your analysis. Combining two metrics Earlier this year we implemented the Panel activity graph which is used to track the movement of your panel over time. This data is used by panelmanagers who need to keep their...
C for Celerity
Speed is not just a trait: on the web it is a feature. An important feature. All too often do we find that the web application we are depending on in order to finish that document or meet that deadline is too sluggish to be workable. At Wakoopa, we strive to make our products a joy and a breeze to use. This encompasses all our software (including the trackers to be installed on panelists'...
Another Dashboard Development Update
Just like my colleague Menno did at the beginning of this month, I would like to share some of the latest improvements to the Wakoopa dashboard with you today. All of these improvements have been made available to you automatically. A complete overview of all our dashboard updates can be found in the Changelog on our Knowledge Base. 1. Improved Channels grid When we introduced our dashboard...
Wakoopa supports Bits of Freedom
Bits of Freedom is a Dutch organization that advocates freedom and privacy on the internet. They show that you can be sucessful by having a targeted strategy, being fully transparent and using plain common sense. As a proud supporter of Bits of Freedom, Wakoopa also supports an open internet, where the right of sharing information and the right on privacy should be top priorities. At...
Dashboard development update
The dashboard we offer to our customers is in constant development. A lot of work is done behind the screens to make the dashboard run faster or lay the groundwork for new exciting features. Normally you can find these changes on our changelog on the knowledge base but today I wanted to highlight a couple of features that are directly visible in the dashboard. Improvements in audience-analysis...
Google inspired by Wakoopa?
Search giant dives into passive audience measurement Classical advertising research was all about the audience: did my ad reach the audience? Did they like it? Were they engaged? Did it have impact? With online advertisement, we forgot about researching the audience. We had a shortcut! If they clicked on it, it had impact. At Wakoopa, we believe that we can deliver better service to the...
The importance of the privacy description
Wakoopa's software is quite different from the traditional panel research. That's why introducing the tracker sometimes seems hard. We get a lot of questions from people wondering what the best way is to do so. At Wakoopa we were wondering the same; what would be the best approach for the highest conversion? That's why we have conducted a research last year to find out the best practice for our...
Introducing the Wakoopa Knowledge Base
Last year the redesign of the Wakoopa dashboard was released. Since then we've been working on a way to better help our customers in working with the dashboard. Today we're proud to announce the Wakoopa Knowledge Base. The Knowledge Base is a collection of articles we've written to help you get the most from your Wakoopa dashboard. The articles are aimed both at those who are...
Plugging Wakoopa Into Web Browsers
At Wakoopa, we develop technology to follow the digital lives of our panelists and present that data to our customers in a powerful and beautiful way. Currently, the central functionality of our products is tracking browsing behavior by looking at the websites a panelist visits (of course, with explicit consent). Although we derive complex information such as visitor paths, the central nugget of...
State of the Web 2011
Today, Wakoopa is releasing its first edition of an annual report named The State of the Web! The report focuses on trends in people's digital lives in a mature online market, discussing topics such as search, news, shopping, and social media. We'll be uncovering some pretty amazing details in those industries along the way. We've gathered this data using our unique...
Wishing you all a brilliant 2012
From the heart of Amsterdam, we at the Wakoopa HQ wish you all a very happy new year. Our friends, our fans, our clients and relations: thanks for your support, energy and business in 2011. We're proud that we have – again - almost quadrupled this year. We are following the digital lives of more than 40 thousand individuals, in 20 countries. Our technology is alive and kicking, with much more...
Update from a fan
"I see Wakoopa is doing great!" Every time somebody tells me this, it gives me goosebumps. While I do believe that we've only just begun, I can't help but be proud of where we are going. All lines go up and to the right. Great! With that in mind, I've decided to step down from Wakoopa as of January 2012. I'm young and full of new ideas I want to focus on. With...
Entry & exit analysis
Over the last few months we've been working on a new feature for our dashboard: entry & exit analysis. The entry & exit analysis breaks down where the traffic comes from before, and goes to after, visiting a site. We can deliver this information not only about your site, but about all sites, so you will be able to compare your stats against competitors and other industries. ...
Comparing properties, exporting ads, and a new...
Just two months after releasing our all new and improved analytics dashboard, we are proud to announce some cool new features which give you more insight into customer behavior and make the dashboard easier to use. Comparing properties To give you more insight into your panel and what kind of people are a member, you can now cross-reference several of their properties. For instance, it might be...
QD, redesigned: our best dashboard yet
A few months ago we took all we had learned in digital measurement and set out to make the best dashboard ever. We looked at all the feedback we got from all our customers (such as TNS, Google, Synovate, and many others) and tried to redefine how they would do digital research using our tools. Today, we've finally launched our redesigned dashboard, nicknamed Holly. It does one thing well:...
Getting more out of your dashboard: Reach &...
Wakoopa has improved the market and audience charts by adding columns that conveniently show reach of web sites, search terms or ad banners. Reach within Channel, Market and Project The new market map shows for each web address its relevance within the defined channel, market and total project.  In the screen shot below, you can see that nu.nl has a reach of 51.1% within the Sanoma Digital...
A new CEO, a next step
By all accounts Wakoopa is on a roll. The reboot of our company was officially launched at the end of last year. We've brought in the new year with six new projects, including one with Google. And today, we've added Wakoopian number 8 to our team page. Which is what I wanted to talk to you about. Our latest addition is Piet Hein van Dam. Piet Hein was raised on business development,...
TNS compares Dutch social networks using QD
TNS NIPO, the Dutch branch of TNS, has recently published a report on social networks in The Netherlands by using Wakoopa's QD dashboard. The results (available in Dutch here) clearly show that local social network Hyves is not growing as rapidly as Facebook or LinkedIn: However, the report concludes that although growth is slowing down, the total reach within Holland of Hyves is by far...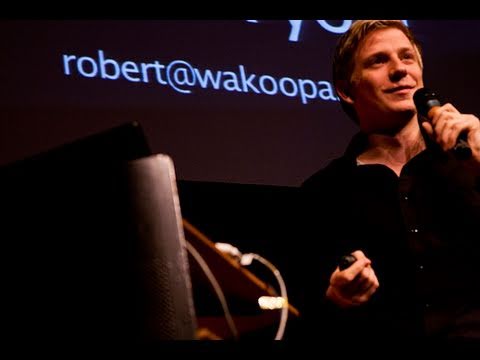 New Wakoopa website launched
After weeks of hard work, it's finally there. Our social network was moved earlier this week to social.wakoopa.com, to make room for our new corporate site. We're now very happy to announce the brand new wakoopa.com! Since 2007, our company has evolved from "just another social network" to an experienced data provider. In short, we create digital DNA of today's...
Wakoopa winner SPSS Feedback Innovation Award
We're the proud winner of a MOAward for our product QD! Thank to all the judges and other participants, and of course SPSS!
Wired published results from reader panel
Wired Magazine recently launched in the UK. To show advertisers what target audience they're servicing, they used QD. The result is a series of impressive visualization, if we do say so ourselves. View the full report here.
Welcome to our new blog
Hi! Welcome to the new English weblog of Wakoopa. From this spot we'll keep you up to date on the latest news regarding our measurement platform.